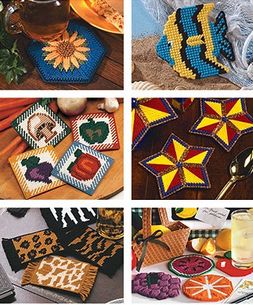 Big Book Of Coasters in Plastic Canvas is a book by Leisure Arts.

These eye-catching coasters will keep you in stitches!

From whimsical to elegant, the 43 designs in our 13 terrific plastic canvas coaster sets are so quick and easy to make that you can craft a set for every room--even the patio.

You can add a decorative touch, reflect your personality, and protect your furniture--all at the same time!

Beginning stitchers will love the full-color charts and simple-to-follow instructions, while those with more experience will appreciate the unique patterns.

With such a wide variety of styles from which to choose, you're sure to find coasters for everyone!

Softcover; 26 pages.