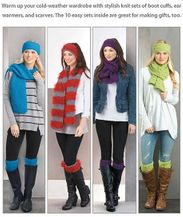 Cozy Fashion Accents is a knitting book by Leisure Arts

Chevrons, cables, and other striking stitch patterns bring fabulous style to the knit boot cuffs, ear warmers, and scarves in Cozy Fashion Accents from Leisure Arts.

Choose from 10 sets to make warm fashions for yourself or your family and friends.

Designs include Chevron Seed Stitch Set, Little Shells Set, Arching Cables Set, Double Seed Stitch Set, Garter Stripes Set, Slip Stitch Set, Hurdle Stitch Set, Furry Stripes Set, Trinity Stitch Set, and Serpentine Cables Set.

All are Easy or Easy+ skill level and use medium weight yarn; the Furry Stripes Set is accented with bulky weight novelty yarn.

The patterns call for 16-inch circular knitting needles in size 8 or 9.