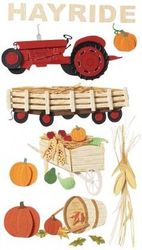 Jolee's Boutique Ornate Stickers offer scrapbooking and paper crafters a new dimension!

Each includes an intricately sewn outfit, along with accents made of a variety of materials.

Like the Jolee's Boutique stickers, only BIGGER !

This magnificent collection of unique 3-D, self adhesive stickers will enhance any project with a quality look.

Papers and adhesives used are acid free.

Measures: 4" x 7"