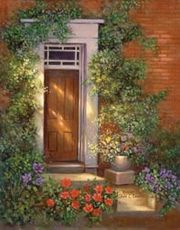 Includes everything you need to create your own art masterpiece!

Just paint over the greyscale art image printed on the high-quality primed canvas. Instruction booklet by Linda Coulter shows you how - including how to mix, blend and shade colors for great results.

Each kit contains acrylic paints: 1 instruction booklet, 1 wooden palette, 1 flat & round brush, 12 tubes of paint and a pre- printed stretched canvas.

Measures: 11" x 14"