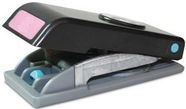 Paper Punch, MEDIUM, Slim Profile, scrapbook (Paper Shapers)
(3_choices)

Slim profile punch is powered by the Paper Shapers patented thumb punch lever.

Creative engineering makes the squeeze action of punching even easier.

This lightweight punch locks shut for stackable storage and are labeled for easy identification.

Easily line up your borders - use the template plate of the base of the punch to line up punched images for a punched edge of any length

Punch size is approximately: 1"



1" Circle, Paper Shaper, MEDIUM, Slim Profile, scrapbbook paper punch (EK Success)

Retail: $12.00
Our price: $9.99

Cupcake, Paper Shaper, MEDIUM, Slim Profile, scrapbbook paper punch (EK Success)

Retail: $12.00
Our price: $9.99

Scallop Circle, Paper Shaper, MEDIUM, Slim Profile, scrapbbook paper punch (EK Success)

Retail: $12.00
Our price: $9.99
(Click on any picture for larger image)
(Click UP Button for more items in this category)

$5.95 Flat rate shipping

CraftersMarket.net
CCSstitch@aol.com
logo & graphics by House of Rose Design