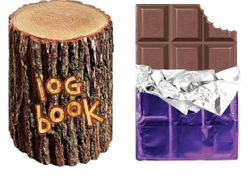 Tricky Notepads (Paper House Productions)
(2_choices)

Tricky notebook with its photo-real images is fantastic for all your great ideas.

Because most great ideas start as a sketch in a notebook! tricky notebooks, created by award-winning International designer Richard Holloway, are a low-tech answer to all things digital.

Paper house is proud to introduce these innovative notebooks with this playful designs.

Each notebook measures approx.. 4 x 6'' and contains 96 dotted pages.